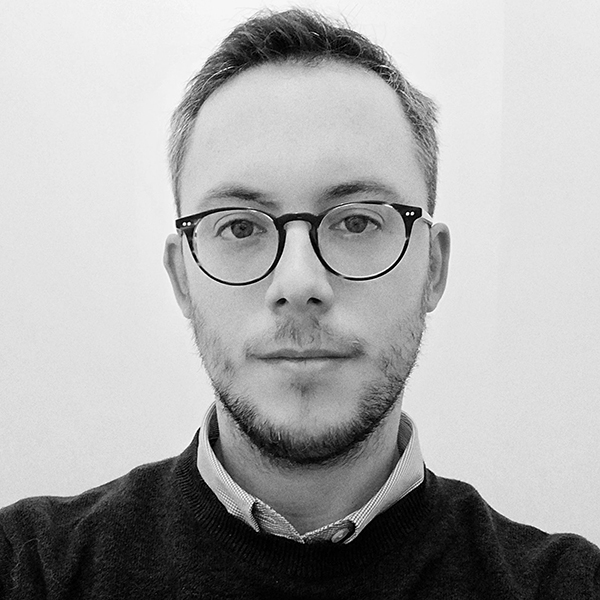 Hi. I'm Julien.
I'm a french Creative Technologist & Teacher.
I explore technologies through the lense of creativity. I help creative teams, agencies & brands to find creative ideas involving relevant technologies and I help to design and craft innovative user experiences.
I'm a former Web developer, UX & technical Web projects manager.
I love to make things, I love to teach (I currently do it at Gobelins & Sciences Po Paris) and I love to help people better understand technology.
Selected Works
You will find below a selection of professional and personal projects I made or I've been involved in, over the last few years. For more details, please contact me (on linkedin or twitter).
Renault TimeMachine Experience

For Renault 120th anniversary and during the 2018 Paris Motor Show, the visitors were invited to enter the Renault TimeMachine Experience. A capsule made to create their own virtual avatar and to make it travel through time and through the Renault History.

Role: Creative Technologist

Ideation, user experience design, prototyping, and technical consulting.

Custom Conversational Agent

A custom conversational agent/application using a panel of Google Cloud tools (Dialogflow, Firebase, Assistant, Actions) and based on the Google AIY voice kit.

Role: Creative Technologist

Development, conversation design, 3D modeling & prototyping.

Mum Button

A bluetooth connected button allowing to quickly and easily send a pre-written SMS to a chosen contact with a simple push.

Role: Creative Technologist

Technical advising, prototyping, provider identification, User eXperience design.

Renault x Solo activation campaign

360° advertising campaign around the "Renault x Solo: A StarWars Story" partnership.

Role: Creative Technologist

Technical advising & provider identification.

#ShakeParkinsonsOff

A mobile Website using the YouTube API and the Vibration API in order to augment a video clip about Parkinson's disease and make viewers' hands tremble too (on their smartphone).

Role: Creative Technologist & Technical Project Manager

Head Tracking Demo

A simple head-tracking experiment using 3D and Openframeworks.

Role: Creative Technologist

Prototyping.

Publicis Conseil Wishes 2018

For its 2018 wishes, Publicis Conseil agency chose to display messages, collected from Twitter, on the Publicis headquarters LED facade.

Role: Creative Technologist

Advising and prototyping.

VR Explorations

Exploration of VR use cases, combining 3D integration and conversation using Dialogflow API, Google Speech API and IBM Text-to-Speech API.

Role: Creative Technologist & developer

GIF Photobooth

A DIY Photobooth that takes a series of pictures to generate animated GIFs.

Role: Creative Technologist & developer

Processing development and woodworking.

Beacon Blind Helper

This project aimed at helping blind pedestrians to easily detect an approaching electric (and silent) vehicle.

Role: Creative Technologist

Advising and prototyping (3D modeling and printing, Android demo app development)

The Wild Tweets

Creation of a connected tree branch for a Zoo. Thanks to an IR sensor, the parrots movements are converted into letters and then published as tweets.

Role: Creative Technologist

Woodworking, prototyping and development.

Hanging Photobooth

A Photobooth from a different angle, taking pictures from above and posting them on Twitter (created for an agency party).

Role: Creative Technologist & developer

ISS Tracker

A live tracking WebGL animation to follow the ISS around the earth. The position of the ISS is extrapolated from TLE datas provided by the NASA and the NORAD.

Role: Creative Technologist

JavaScript development.

AR Magnet

An Augmented Reality fridge magnet prototype using the Vuforia AR technology.

Role: Creative Technologist

Unity development and AR evangelist.

Connected Spoon

A prototype to re-invent the kids spoon into a taste discovery game.

Role: Creative Technologist

Hardware prototyping and Android app development.

Kiabi Colore Paris

An interactive shop window for a Kiabi PopUp store. Users were able to take control of the embedded screen with their smartphone.

Role: Creative Technologist & developer

Web development. For Highlab/Kiabi

Connected POS

A POS embedding a Raspberry-Pi working as a local Web server and a WiFi hotspot, in order to allow a user to access a hidden promotional Website.

Role: Creative Technologist & developer

RaspberryPi setup and Web development. For Highlab/Darty/Microsoft.

Augmented POS

Innovative experiment for Dior, allowing the user to control the visual effects of the POS from its smartphone.

Role: Creative Technologist & developer

RaspberryPi, Arduino and electronics setup + Web and Arduino development. For Highlab/Dior.